Search Engine Optimization (SEO) has become essential to achieving success in business online. Your website can be beautiful and it could have the best user experience, but if it can't be found, it's all for not. Wix can definitely take care of providing you with all the website builder tools you need to create a beautiful site, but is Wix SEO good enough to give your search rankings a boost? The short answer is YES, but let's find out if it's right for you.
What is Wix SEO Wiz?
Wix has been working hard on getting its SEO features to rival WordPress and Weebly. As it stands today, Wix offers a great SEO tool named Wix SEO Wiz. It's free, it's built-in to the site builder and performs all the fundamentals you would expect. Additionally, it's practical, intuitive and most importantly, it's easy to use. Let's take a peek at the features that Wix SEO Wix offers, and find out if it can hold its own in the web builder SEO rankings.
Quick View: Simple Layout, Solid SEO Tool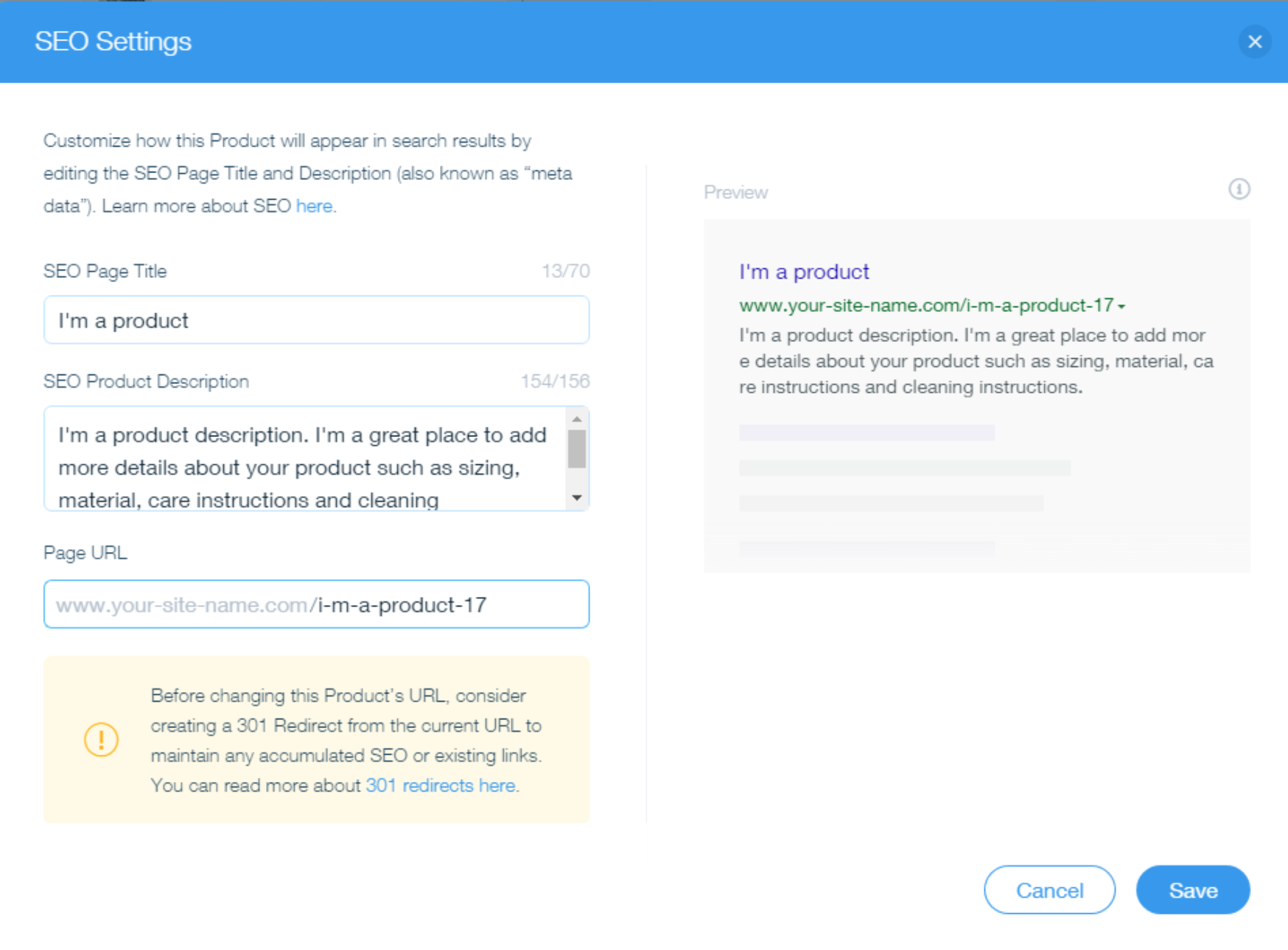 When creating a website, Wix becomes your in-house web designer due to its ADI interface, and though the Wix SEO tool isn't as "ready to wear," we love how practical and user-friendly it is. Your online store will greatly benefit from proper SEO implementation, giving you an edge in your ranking factors too.
Is Wix SEO Free?
It's definitely free...but, not every SEO feature is accessible and manageable. Check out our quick reference chart below to see what's included and what you'll need to figure out on your own.
| | | |
| --- | --- | --- |
| Feature | What is it? | Is it included? |
| Meta Title | This tells search engines what your page is about. | YES. Each page and post has its own SEO section. Fill in all the pertinent info and see a preview of how the page will appear in the SERP's. |
| Meta Description | This appears under your meta title in search engine results. Here, you should expand on your page's content, while making sure to use your target keyword. | YES |
| Custom URL's | Allows you to make URL's that are relevant to the content (beneficial for SEO), instead of displaying a string of numbers. | YES |
| Headings | These are sub-headings that allow you to break up and structure your content, benefiting SEO and your readers | YES |
| Image & ALT Text | Google can't tell what an image is about or if it's relevant to your content with reading an image ALT tag. | YES. Go to your image settings and fill in the appropriate information. |
| Good Speed & Uptime | Websites created on Wix are quick to load and are published and working well 99% of the time. | YES |
| Mobile Friendly | Being mobile responsive is a must. | YES. Wix mobile sites are super easy to crawl and easily recognized by search engines. The editor allows you to edit your content for mobile very easily. |
| 301 Redirects | If you change a URL for one of your pages or posts, you need to make sure that you redirect it to the new URL. | YES. This is built into the Wix dashboard. Enter the old URL in one box, the new one in another and done. |
| SSL Encryption (HTTPS) | SSL (Secure Sockets Layer) establishes a secure, encrypted link between a web server and a browser. | YES. Search engines are beginning to punish sites without SSL, so this is essential. |
| Sitemap | This is a complete list of the pages on your site that tells search engines how your site is structured. | Not really. Your Wix site will have a sitemap, but you'll have to access Google Search Console to manage it. |
| Google Analytics | This Google tool is a must-have. | YES. Simple click "+ New Tool," in the site manager and add your Google Analytics code. |
| Google Search Console | This is another Google tool that allows you to see and track your website's performance. | YES. Connecting this tool is one of the steps when setting up Wix SEO Wiz. |
| Social Media Integration | Social sharing functionality is fully built-in. | YES |
| Search Engine Instructions | On occasion, you need to "un-index" one of your website's pages | YES. Each of your Wix pages has it's own SEO settings. If you don't want a page to be indexed, you can just click the "hide" button |
| Canonical Tags | Multiple versions of your website's pages need to be managed. | YES. Canonical tags allow you to tell search engines which one you'd like to focus on so that your other pages don't compete against each other. |
| Structured Data | This gives search engines more information about your pages. You know the star ratings you see on search results? That's structured data. Search engines love structured data because it helps match users with relevant information. | Not really. Structured data is not built-in to Wix. You can add it in yourself but it is tricky. With the right plugins, this SEO feature is easier managed on a site builder like WordPress. |
SEO Pros & Cons
Pros
No coding required. You don't need any coding knowledge to use Wix SEO. For newbies, SEO can be quite complicated, but Wix SEO Wix makes it easy and intuitive to get your basics done right.
SEO is built-in, which means there are no plug-ins to install and/or troubleshoot. The SEO functionality is built into the Wix dashboard, allowing you to focus on what's important: your content.
Google integration. Connecting Wix websites to Google Analytics and Google Search Console (both of which are incredibly practical for SEO) is super easy.
Cons
Wix is excellent for all your SEO fundamentals, but it lacks in advanced SEO tools. When it comes to having a step up on the competition in the search rankings, the details are pretty important - unfortunately, Wix SEO isn't great for anything beyond the basics.
Wix is a great website builder and now has a pretty solid SEO tool with Wix Wiz. It covers all the basics and is perfect for small businesses and bloggers. Take a deeper look by reading our Wix review and find out if the Wix website builder package is right for you.