If you're trying to figure out the differences between WordPress and Wix, you've come to the right place. Though WordPress is the most well-known, website builder, it's definitely not your only option.
In this article, we will do a WordPress vs Wix analysis, and compare Wix features to WordPress features, to help you build a website that's right for you. Let's dive in!
Pricing and Costs
Costs are always important when choosing your website builder and building a website. The overall cost of website development will depend on your unique needs. Let's see which website builder gives you more for less.
Wix Pricing
Wix provides a basic website builder for free, however, there is a "price" to pay. To begin with, Wix will show branded ads on the top and bottom of your website pages and second, you will not be able to use your own, custom domain. Your website URL will look something like username.wix.com/sitename
Additionally, important plugins like Google Analytics, Favicons, Ecommerce, etc are not offered either. In order to have access to these add-ons through Wix's app market and remove Wix branded ads from your website, you will need to level up to one of the proposed premium plans.
Each premium plan has different bandwidth and storage allowances while allowing you to pay monthly or yearly.
The optimal choice for a Wix premium plan is the Unlimited plan at $12.50 a month, but if you're looking to create have an ecommerce store on your website, you'll need to grab the Ecommerce plan at $16.50 a month. Keep in mind that the prices don't include any paid apps that you may later buy from Wix's app market.
WordPress Pricing
WordPress is an open source software that is available for anyone to use. So what's the catch? The most important catch to consider is that you need your own domain name and web hosting to install WordPress. There are many choices when it comes to web hosting companies and pricing. which can range anywhere from $2.75 a month to over $29.00 a month. The hosting packages vary depending on many factors including bandwidth, storage, eCommerce, etc.
Your costs with your WordPress website may increase if you decide to buy a premium WordPress theme, although you can cut costs by sticking with one of the thousands of free WordPress themes available while making good use of free WordPress plugins.
Pricing Verdict
WordPress comes out on top in the pricing comparison due to having your own choice of web hosting companies. Your cost will depend on your needs and usage, allowing you to use your WordPress site in any way you want.
User Friendliness
Those who have little to no experience creating or designing a website seem to lean toward using Wix, though both Wix and WordPress allow you to design a website without using code. Let's take a closer look at the usablitity aspects of both these website builders.
Pricing Verdict
There's no other way to put it - YES. Wix comes preloaded with great and easy to use tools to build your own website from scratch, It's super simple drag and drop interface lets you select any element on your page and edit it right on the spot.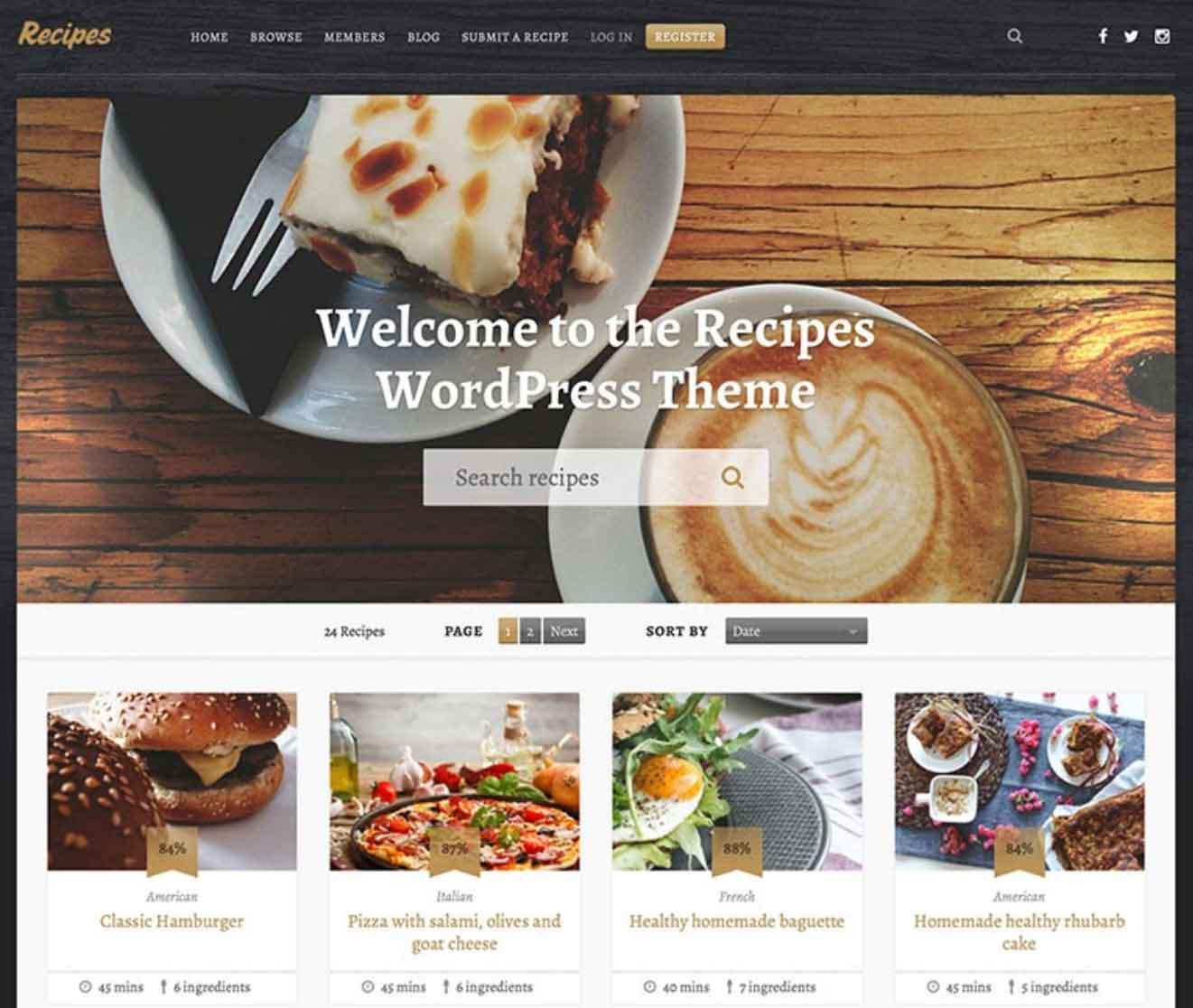 Wix Editor
Dragging and dropping various elements on your website has never been this easy. Change your page layout, write content and add media in a snap. Many beginners would be thanking the gods above as it saves them from asking one of their coder friends for help.
Is WordPress Easy To Use?
By default, WordPress does not come with a drag and drop page builder, but you can build your webpages and customize your theme properties using the visual editor.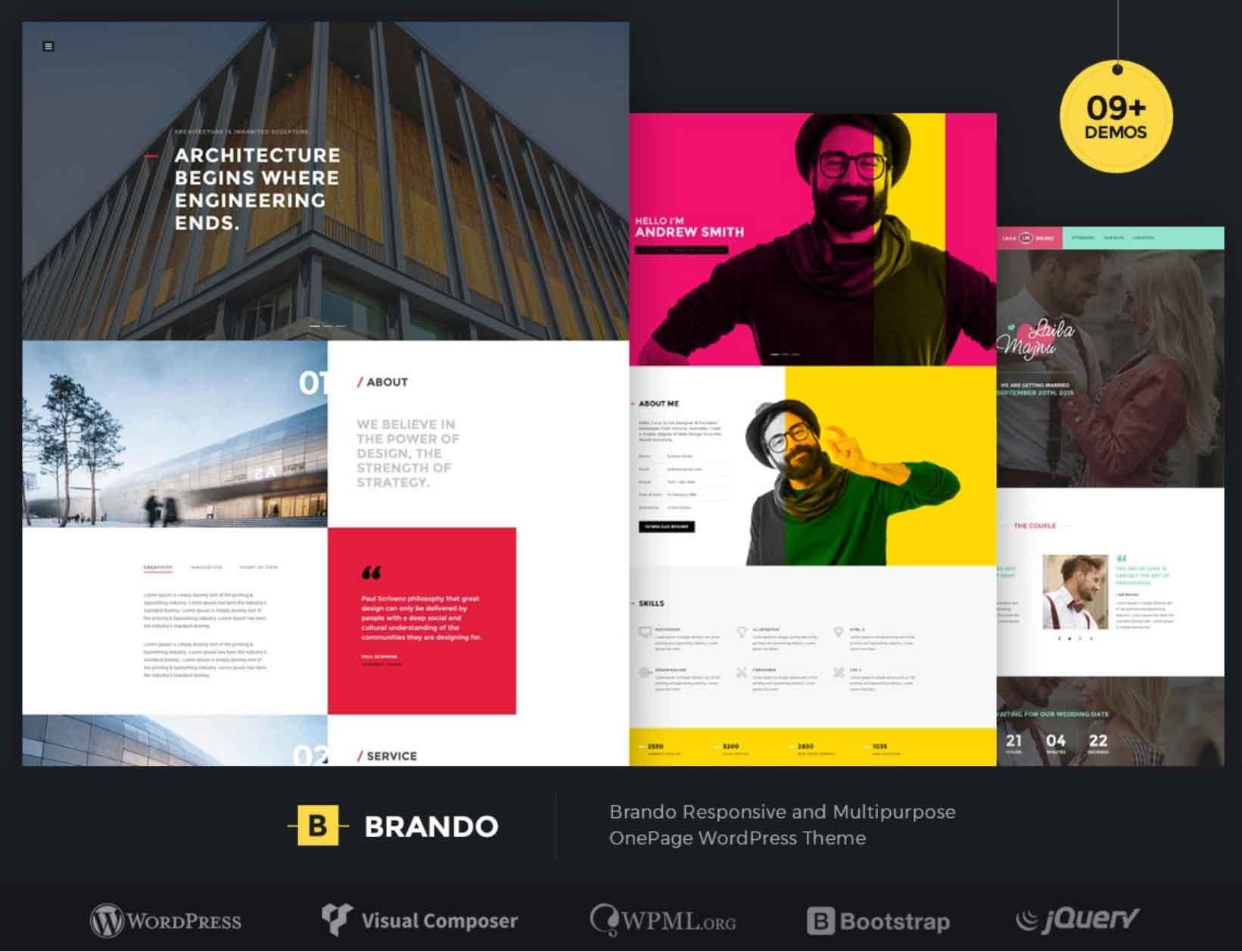 WordPress Editor
WordPress requires a little bit of a learning curve. You will have to get familiar with the navigation menus, customizer, visual post editor and more if you want full control of your website's appearance and design. Alternatively, there are thousands of WordPress themes that make customization super easy.
User Friendly Verdict
Wix takes the cake when it comes to ease of use. If you go with Wix, you won't need to spend much time learning the builder and its editor. Wix can also create a website for you with its ADI technology. More on this in our in-depth Wix Review. The WordPress platform may be worth the learning curve though because it does offer more powerful tools and features that can come in handy in the long-term.
Design and Layout
Your website's design and over functionality plays a big role in your success. You need a site that's aesthetically pleasing while being user-friendly and easy to navigate.
Wix Design & Layout
Wix offers more than 500 pre-designed templates that are fully responsive. Using Wix's onboard tools, you can customize your website design further by changing its layout and displacing various elements on your website pages.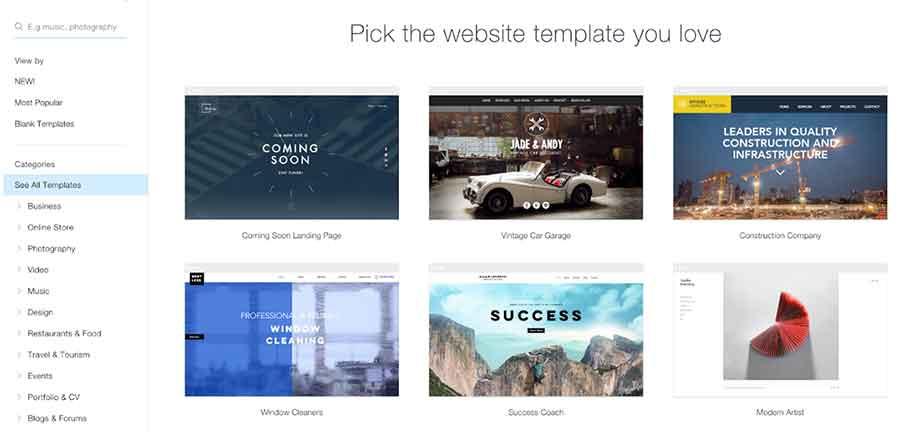 Wix Templates
Your template options are organized into various categories like business, eCommerce, hobbies, personal, etc. A very big disadvantage here is that once you've picked your website theme, you cannot change it. You can modify and edit your chosen theme as much as you'd like, but you cannot replace your theme with a new one.
WordPress Design & Layout
There are a ton of free and paid templates for WordPress. Though free themes come with very limited support, they go through a strict review process before being available to WordPress users.
WordPress Themes
WordPress themes come in an abundance of styles, meeting your every need. From personal blogs to full-on ecommerce themes, everything you are looking for in a theme is available. Use any of the styling and customization plugins to further tailor your theme to your specific needs.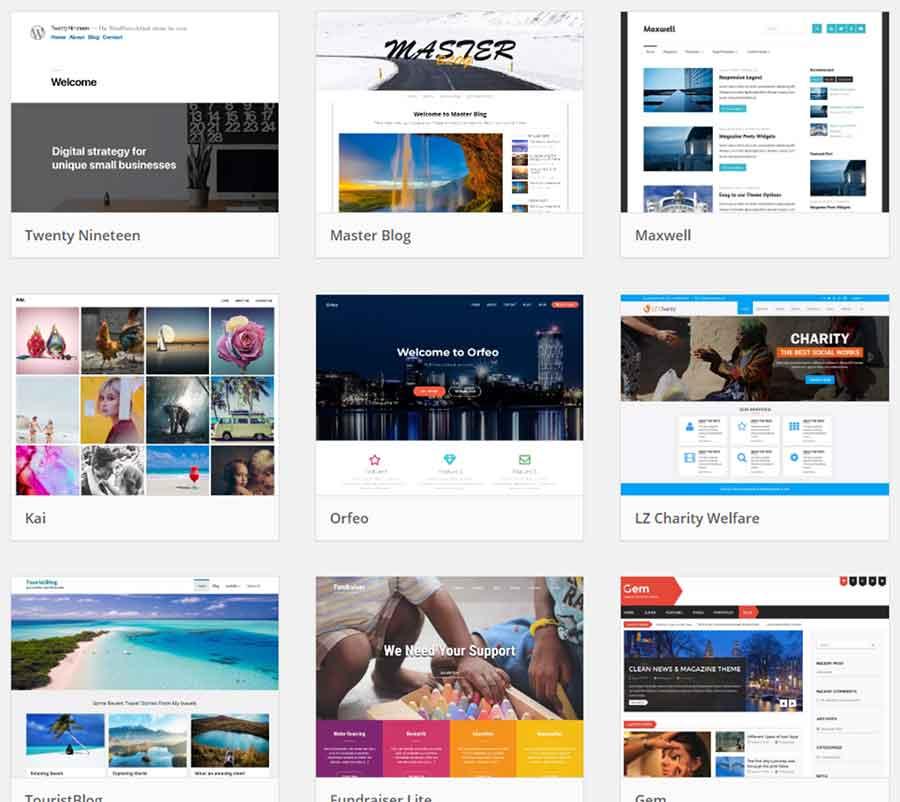 Check out Theme Forest for all the latest and greatest, paid WordPress themes or download free themes from the WordPess.org directory.
Design & Layout Verdict
With a much larger range of themes and layouts as well as the ability to switch themes on the fly, it's hard not to go with WordPress on this one.
Plugins and Apps
Plugins, apps or add-ons are extensions that you can use to add more features and functionality to your website.
Let's see what they both have to offer as well as a quick look at what they can do for you.
Wix Apps
With close to 200+ apps on the Wix App Market, you can install apps that offer features like contact forms, picture galleries, comments, social media buttons, email marketing and more.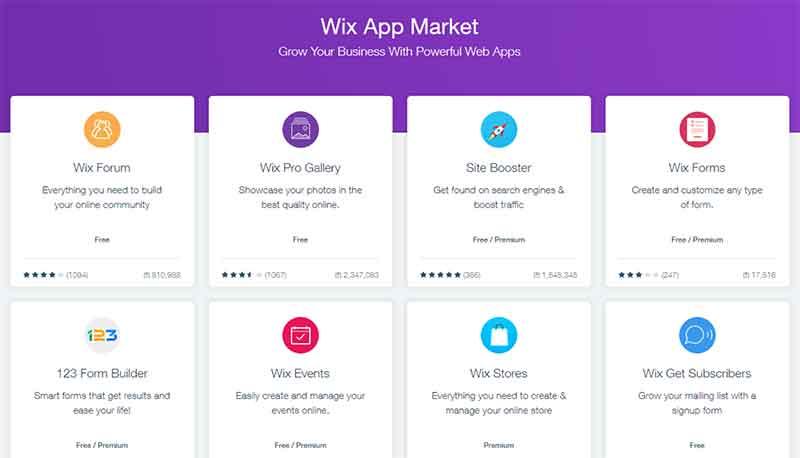 Wix App Marketplace
Most apps on Wix Marketplace have a free or lite version. Other apps may require a monthly payment. Even though Wix doesn't offer near as many apps like WordPress, the most popular and the most commonly used are readily available.
WordPress Plugins
WordPress plugins are incredibly vast. Over 55,000 free plugins are available in the WordPress.org plugin directory, not to mention premium, paid plugins through other marketplaces.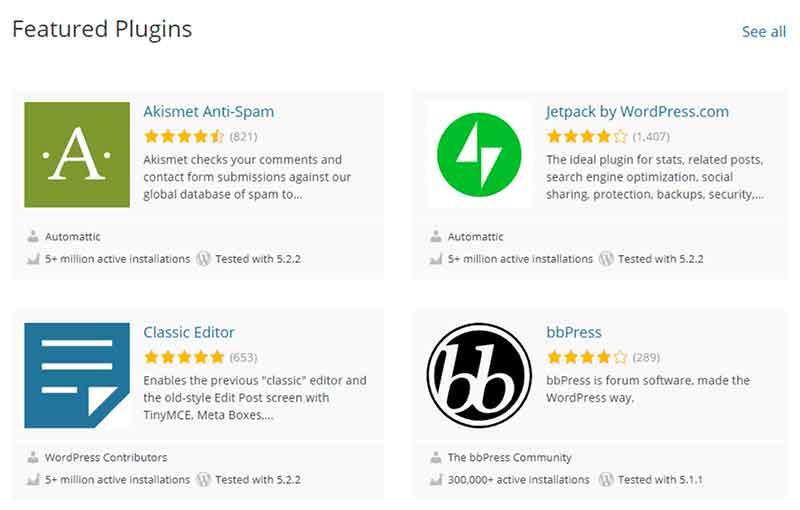 As they say, "if you can think of a feature, WordPress probably has a plugin for it." Whether you want to create a custom contact form, install Google Analytics, build a membership website or go into full eCommerce mode, there's a plugin that can help you make it happen.
Plugins & Apps Verdict
WordPress takes it by a landslide in this area. Wix is growing its app library every day, but it still has a lot of work to do if it even wants to come close to the monster directory of plugins that WordPress boasts.
Wix vs WordPress – Blog Comparison
Both Wix and WordPress can produce great looking blog sites. Let's see which one stands out.
Wix Blogging
Wix has all the basic blogging features you'd expect like categories and tags, images and videos, archives and more. Adding them to your Wix website is very easy.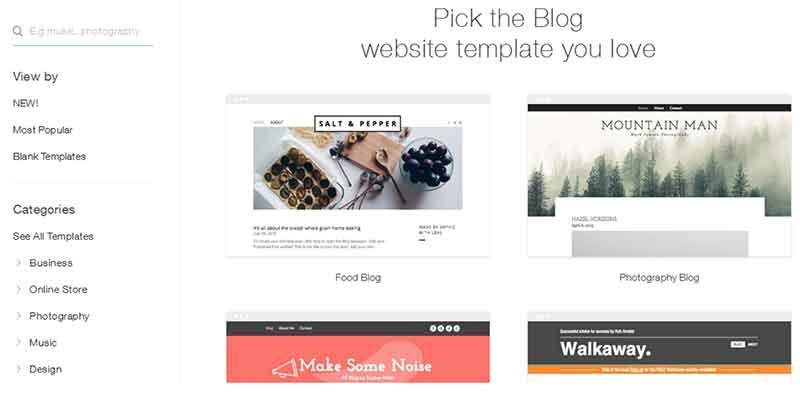 Wix Blog Editor
Wix's blog editor doesn't have a built-in commenting system as WordPress does. It uses Facebook comments and unfortunately, those comments are not portable. It also lacks features like featured images, backdating posts, creating private posts and so on. The editor for your blogs is not the same as your Wix website editor. Unfortunately, this plain text editor doesn't offer many options in terms of formatting.
WordPress Blogging
Originally, WordPress was a blogging platform. It evolved into the monster that it is today and powers close to 33% of all websites. Wow!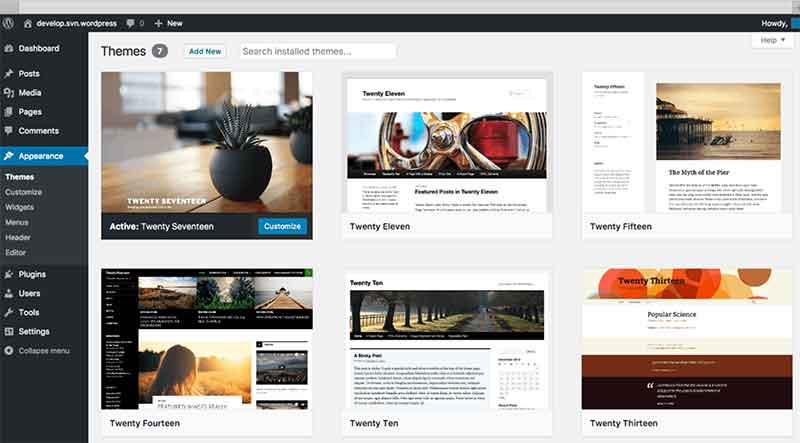 WordPress has all the blogging features you need like a built-in commenting system and every other advanced blogging feature you can think of.
Editing Blog Posts In WordPress
The powerful Gutenberg block editor allows you to create beautiful layouts for your blog posts. Most importantly, you can add functionality and flare to your WordPress blog site by using plugins to add any feature you may need.
WordPress Vs Wix Blog Comparison Verdict
WordPress takes first place here too. Though Wix covers the basics, it lacks many important blog features. If you're thinking about starting a blog, WordPress should definitely be your choice.
Wix vs WordPress - Ecommerce Features
There are a lot of eCommerce businesses being created online and if you're looking to launch your own, it's important to know which web builder offers the best features for your online store. Let's take a look.
Wix Ecommerce
Wix offers eCommerce solutions with its paid plans only. Users with free plans cannot launch an eCommerce store on Wix without upgrading to a paid plan first. Another thing to note is that Wix Stores only accept payments through PayPal or Authorize.net. There are a few third-party apps that can help you sell your products online, but those apps would incur extra costs, not to mention the limited options in payment gateways.
WordPress Ecommerce
Creating your online store with WordPress is super simple. WordPress uses WooCommerce which is used on more than 42% of the world's eCommerce websites.
Plugins for your eCommerce store are plenty and they help you sell physical and digital products as well as services, events, memberships and more.
Wix Vs WordPress Ecommerce Features Verdict
If you're ready to build a solid online store with the intention of growing in the future, then WordPress combined with WooCommerce offers much more flexibility and power than Wix does.
Wix vs WordPress - Data Export Comparison
In the future, you may want to consider another web builder platform. That said, you'll need to think about data export and portability options when choosing which builder you'd like to go with. Let's see how WordPress and Wix stack up in the data export department.
Wix Export Options
As far as Wix export options are concerned, they're very limited. Other than being able to export your blog posts in XML format, you'll have to manually download all your other content like pages, images, videos, etc. This is due to Wix exclusively hosting your on its servers. This makes it quite hard to move your content to another platform if or when you'd decide to jump ship.
WordPress Export Options
It's really easy and simple to export your content in WordPress. The handy one-click export option allows you to download your content in XML format. Simple, easy.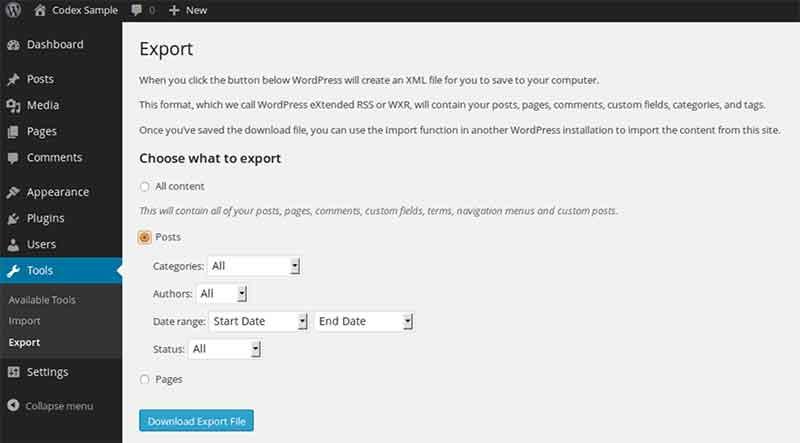 Seeing as how WordPress is a self-hosted web builder platform, you can create complete backups, download all your media files and even manually export your WordPress database. In the event that you are not happy with your hosting company, making the switch is easy.
Wix Vs WordPress Export Option Verdict
WordPress takes the lead in this category too. It is better equipped at moving and migrating your data if you so choose, while Wix makes it a little difficult to export your content to another platform.
What's Better To Use For Creating A Website - Wix or WordPress?
I think you got the picture but here it is in black and white just in case - WordPress is the clear winner here.
Whether you're looking to publish a blog or venture into any kind of website creation, WordPress has all the features and tools you need to get online and grow in the future.
Don't count Wix out though. Wis still remains simpler to use and if you're creating a website with Wix, you'll be up and running in no time. It's a great option if you're publishing a simple blog or have a website for informational purposes.
For a more in-depth look at Wix and its features, check out our Wix review.
We hope that this article sheds some light on your choice between WordPress and Wix. If you're still unsure and are considering other web builder options, check out our in-depth reviews on two other great website builders: Webflow and SITE123!