Is SITE123 The Best Website Builder For You?
When you search for a website builder, you get clobbered with ads for the alleged latest and greatest. Unless you spend the next 10 years testing them out in a bunker, there's no conceivable way to find out which one is best for you. Good news - GWB's crew performs the deep dive for you. Our experienced dev divers bring you all the info you need, directly from the web development ocean floor. On this site builder review, we'll be looking at SITE123 pricing and its pretty stellar features. Let's go!
Site123 Features at a Glance
Create and design pages easily
Intuitive website editor for easy content management
Mobile friendly design
Hassle-free, safe & secure hosting
Integrated SEO tools to optimize your website
Free SSL certificate
Custom domains
Multilingual websites in just a few clicks
Easy to use e-commerce platform
24/7 Live Support
Excellent blogging templates
SITE123 Themes & Templates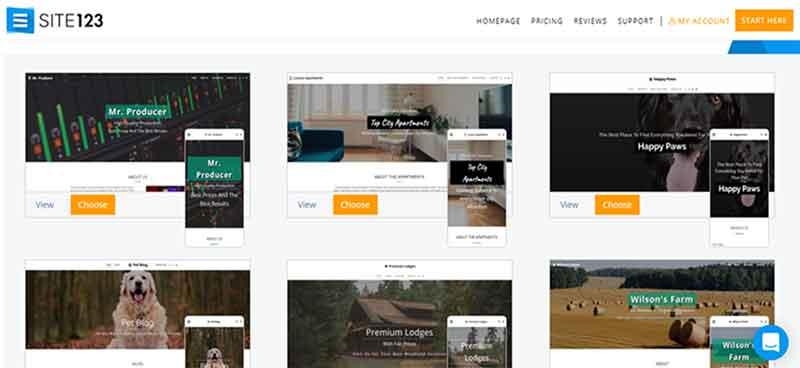 Upon entering the site and clicking the "New Website" button in the top right corner of SITE123's main dashboard, you'll be able to choose from 11 categories of website themes and styles. These include business website themes, online store, blog, photography and industries like technology, restaurants and more. The number of templates available total over 100, although you're not given the option to select from a particular one right off the bat. After selecting your website category, you then move on to naming the site and choose from dozens of supported languages including English, German and French.
Create & Design Pages Easily
After the sign-up process, you're immediately taken to your site builder's homepage editor. The layout is simple and the UX is spot on. On the left, you have your main navigation, including your site pages, design, settings and even buying a domain name. If you already have a domain name, you can click within the menu window for more info on how to connect it to Site123.
On the right, we have super quick access to all the editable elements such as text, images, buttons, and video. There is also a "layouts" button that allows you to pick from many pre-designed homepage layouts.Unlike some pre-designed layouts, these are actually solid and functional.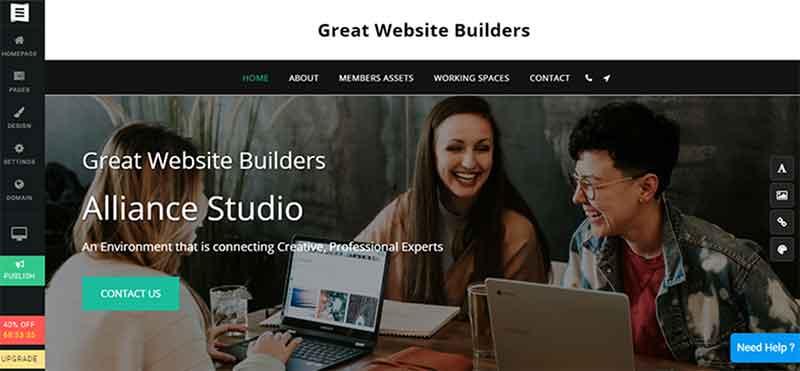 Cool feature alert!. When choosing your header image, you can select the focal point of the picture. Nice touch Site123!

SITE123 Editor Overview
Editing your pages is super easy, especially with the quick sidebar access. You can choose to edit specific sections or simply grab one of the pre-designed pages. For example, if you want to churn out a website for a one-time event, like a wedding, going neck deep into the design isn't the most efficient thing to do. Choose a design and edit it from there if you wish. The screenshot below was edited from a template. In 5 minutes, we had our homepage signed, sealed and delivered!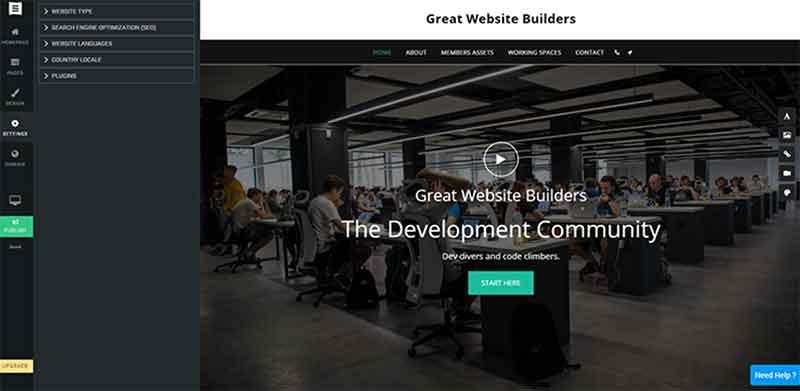 Your interior pages are displayed on your left sidebar along with the various actions you can execute for each. The edit button allows you to edit and manage the page content, the painter's palette allows you to change the overall design, and the gear icon lets you choose where the page is located as well as other setting options. The GWB team really loves how simple and intuitive the editor is. We rarely, if ever, found ourselves looking for an editing tool.
Feature Highlight 1: SITE123's Native SEO Tool
SEO is all the buzz these days and it's no myth - it needs to be on point. We were pleasantly surprised by the simple and efficient SEO tool. Edit your title meta tag, meta description, and your focus keyword directly in your settings. Basic SEO implementation is a must and needs to be maintained with time, so having quick and easy access to editing your SEO criteria is a nice touch!

Other Features We Love
Free Stock Images
Don't have your own images to add to your website? No problem, you can browse through the vast amount of beautiful, free images provided by Unsplash.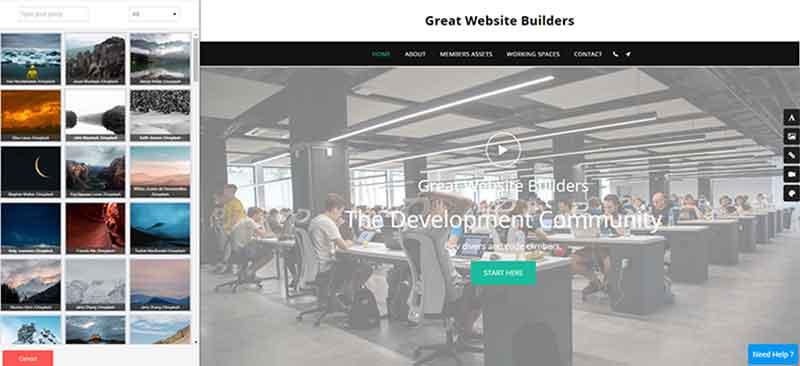 Custom Forms Builder
Built-in custom forms? Hell, yes. Advanced settings are available which allow you to send auto-reply messages, add scripts and code. You can also create custom forms for collecting data from your website visitors.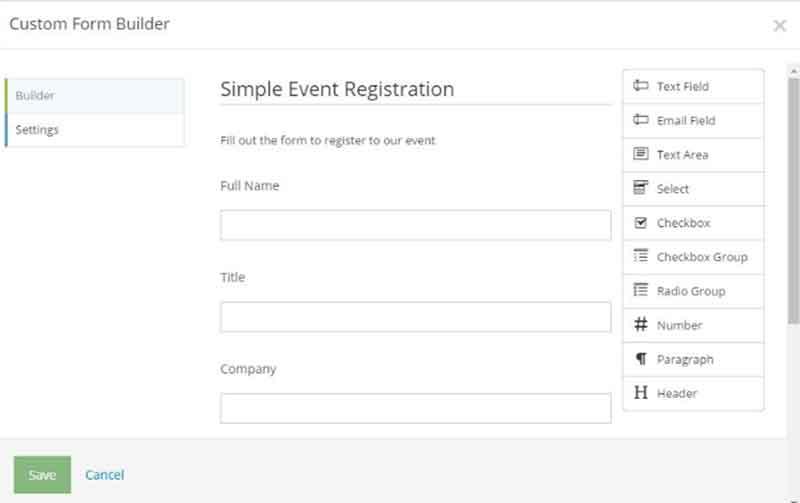 E-Commerce
Maybe you're not aiming to have an online store on your site, but having that option is a nice plus. Again, this tool is easy to use, intuitive and great for a basic e-commerce shop.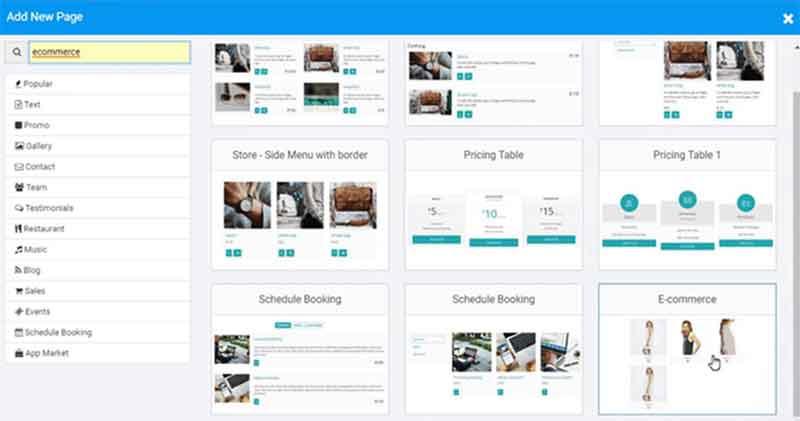 Email Marketing
When we discovered that SITE123 had a native email marketing tool, we were a little skeptical to be honest. Having had underwhelming experiences with this tool on other site builders, we weren't expecting this feature to blow us away - well, it did! Like all features on the builder, the email marketing tool is simple and easy to use. Here are a few of the features that stood out for us: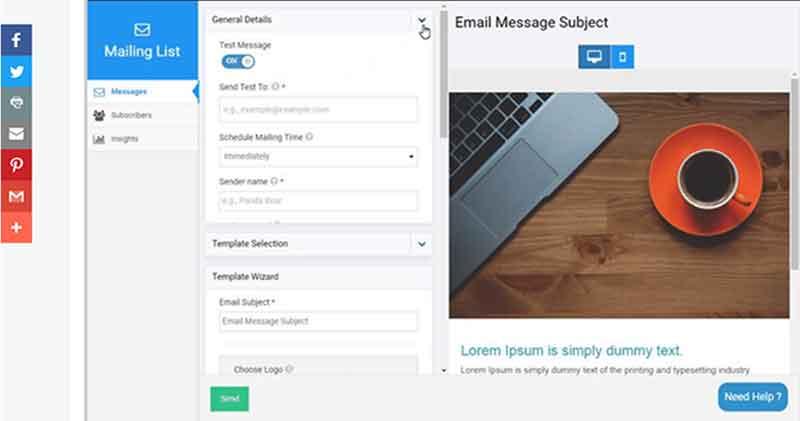 Marketing Insights
Yes, there are built-in insights with the email marketing tool. View charts showing the frequency of messages and filter & measure them over time.
Import/Export Subscribers
Being able to import an existing list of email subscribers and having the option to export your to other platforms is a really nice touch.
Reusing Your Last Email Message
Reusing the last message you sent to your mailing list is time-saving and efficient when setting up your new message to send out to your clients.
Honorable Mentions
Here are some great added features that can help manage any type of website:
Schedule Booking - Lets your clients book their appointments on your site.
Events - Customize your event and sell your tickets online.
Restaurant Reservations & Menu - Accept table reservations & create beautiful restaurant menus.
Musician Tools - Build your music website with great musician tools and spread your music worldwide.
Image Galleries - Create a stunning media gallery for your website.
SITE123 Pricing
When it comes to pricing, SITE123 sits right alongside all the other website builders, give or take. Ultimately, if the offered features are what you're looking for, you can't find a better site builder! Here's the breakdown of SITE123's pricing: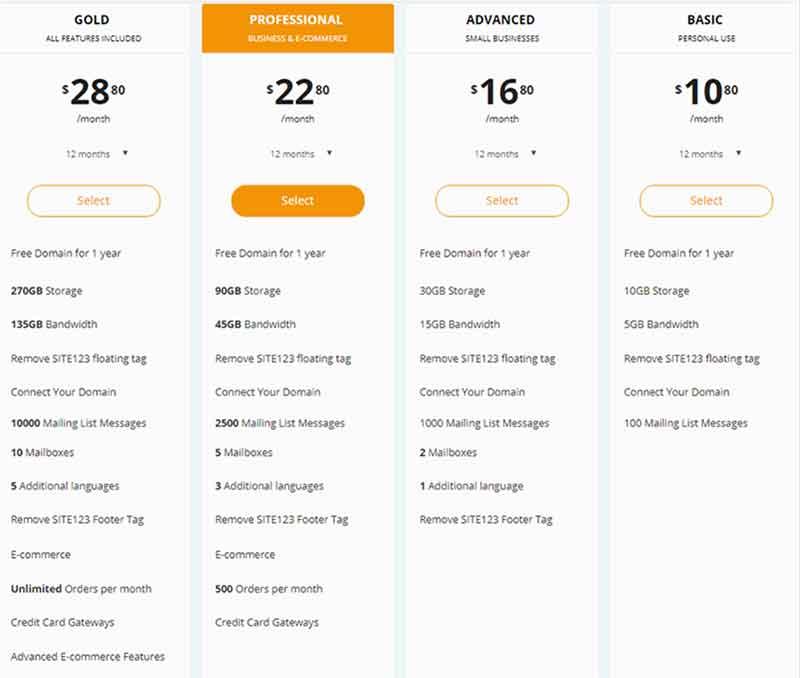 SITE123 | Pros & Cons
Pros
Extremely user-friendly and perfect for those who have no experience in building websites.
Free, beautiful images courtesy of Unsplash.
Apply multi-language tools or opt to translate manually
24/7 Support
Integrated SEO tools to optimize your website
Custom domains
Easy to use e-commerce platform
Cons
No access to the code.
You can't import/export site content
You can't change your template once your site goes live
Final Verdict
SITE123 is one of the best site builders for small business owners. Editing and navigation are extremely easy. Everything in the dashboard is super simple to access and editing tools are very intuitive. Although SITE123's platform is full of interesting and useful features, we did feel limited on occasion. Though many features are native to the website builder, SITE123 leans on third-party integrations fairly heavily. That said, the intuitive UX combined with drag-and-drop technology makes the overall editing and customization of your website a breeze.
Alternatively, if multi-language support isn't something you're looking for but still want flexibility and design control, check out our Webflow review. If you're looking for another simple "drag and drop" website builder, check out our WIX review and see if it may be right for you.